Tuesday, July 4, 2017
On 1 July we released the updated Retirement Income Simulator for the 2017-18 financial year. There were no changes to the underlying calculations, just parameter updates as follows:
Co-contribution eligibility income threshold
SG maximum contributions base
Age pension income test and deeming thresholds
Our February release included the important updates to incorporate the transfer balance cap and new contribution caps.
Back in June some may have noticed a change in the presentation of fees on the Assumptions panel. This achieved two objectives:
allow the user to set a different percentage fee for the post retirement period
simplify the Assumptions panel to focus more on investment returns than fees

Tags: 2017 transfer-balance-cap fees
Thursday, February 16, 2017
Today we released an update that, on retirement, limits the amount transferred to an account-based pension to the $1.6m transfer balance cap. The transfer balance cap is indexed with CPI, so will reduce relative to expected salary growth.
During retirement phase, any super balance that exceeds the transfer balance cap at retirement will remain in an accumulation account, separate from the super pension account.
We have updated the algorithm to meet lump sum and income requirements from the accumulation account first, subject to the minimum drawdown provisions applying to account-based pensions.
This release also introduces some warning pop-ups when you exceed the concessional cap or the transfer balance cap.

Tags: updates budget transfer-balance-cap
Sunday, May 22, 2016
There was a lot in the Federal Budget about super. In case you haven't seen it, here's Mercer's analysis.
Our Apps Team is frequently in a limbo between policy announcements and what has actually been legislated, and we rarely include any policy measure in the simulator if it has not been legislated. In this case however, the changes are so broad that we have done a special Budget Edition simulator to help you see the impact on your super of some of the measures announced in the Budget. Using the scenario feature in the RIS we have considered the following measures:
Continuing the operation of the Low Income Superannuation Contribution;
Reducing the concessional contributions cap to $25,000;
Reducing the income threshold at which the additional 15 per cent tax on concessional contributions applies to $250,000;
Limiting non-concessional contributions across the lifetime to $500,000; and,
Capping the amount of superannuation savings that can be converted into a retirement income stream at $1.6 million, indexed with price inflation.
The simulator uses the Summary -> Compare screen to show which Budget measures might affect your situation.
Other Budget measures we have not included relate to the incentives for spouse contributions, the ability to make deductible contributions independent of salary, the restrictions on transition to retirement income streams and the carry-over of unused concessional caps for five years.
We hope you find it useful. The link is: https://supercalcs.com.au/ris9budget

Tags: retirement-planning budget
Wednesday, April 13, 2016
Today's release includes:
Updating the maximum age pension rate increase effective 20 March
Updating the ASFA comfortable amounts reflecting the December quarter 2015
With January's release we mentioned that the regulation applying to online calculators was being replaced. Instead of Class Order 05/1122, which expired 1 April 2016, ASIC has released Corporations (Generic Calculators) Instrument 2016/207, which we nickname CI207. What has changed? Not much.
The disclosure justifying the default assumptions as reasonable no longer has to be clear and prominent
Any amounts projected more than two years into the future must be shown as present values
We're also working on an application to give users advice on their retirement (robo-adviser). Here's a sneak peek. If you're wondering where robo-advice fits in with calculators and advisers, try this automotive analogy.
Older cars don't do much for you, you have to change gear, wind the windows and remember to turn the lights off. Newer cars have auto-transmission/lights/wipers, lots of safety features and even navigation screens. These cars represent different online calculators on the web, which will help you get to your destination, a retirement plan. But with all of them, you're still the driver, you decide where you want to go and how you get there.
Now if you can't drive or don't know the roads, you need advice on where to go and how to get there; you need a driver. If you call an advice helpline, you're catching a taxi. If you hire a financial adviser, you're employing a chauffeur.
Think of robo-advice as the driverless car option. You say where you want to go, and the car gets you there. If you have lots of luggage, are starting in the bush or need to go via multiple waypoints, the car might decline. If you're on a well-travelled road, the driverless car will give you the best ride every time.
ASIC is now consulting the public on digital financial advice, and looking for comments on proposals to require minimum competence standards for licensees, and guidance for monitoring and testing of algorithms.

Tags: retirement-planning age-pension asfa-comfortable-standard robo-advice
Monday, February 22, 2016
They say a change is as good as a holiday.
The Retirement Income Simulator can now cater for both in relation to your career. The new career change feature allows you to specify up to three points at which your salary might experience a step-change. This allows for a promotion, a job change or even a period of part time work. The Simulator has always had a career break feature, where you can model up to three periods of no salary and contributions. Combine the two and you can now allow for something like this: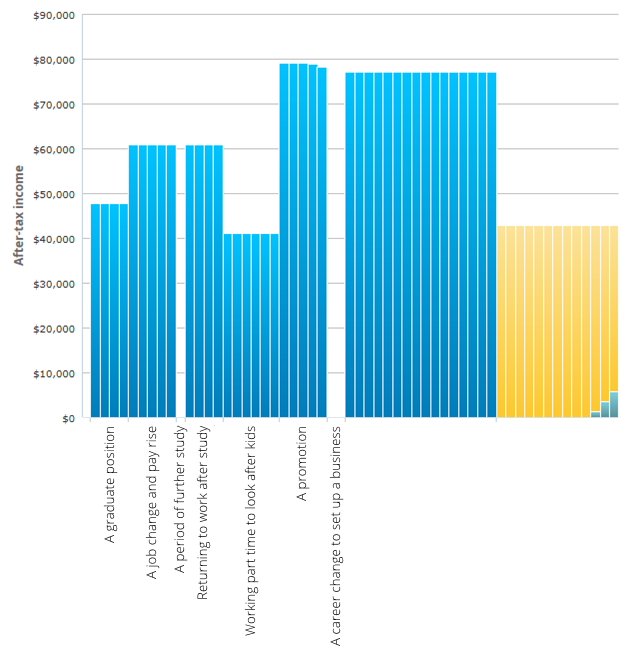 If you're really into it, you can do the same for your partner as well.

Tags: retirement-planning career
Next Page